Imagine if you had 3 tricks that could generate several bookings from a single party….. We found them for you! They are so simple – you'll wonder why no-one has ever told you this before! These will help you get an infinite flow of bookings and will get you hostesses, not just willing to host a party, but be excited to do so! And that's the kind of hostess that we all want, don't we?
Change your language




First of all, you know that our party guests do not like pushy direct sales consultants. We don't want to be someone who bribes people into booking a party and we certainly don't want the reputation of being a nasty and pushy party plan consultant. We want genuine hostesses, excited to book a party with us. An excited hostess is the best testimonial of our business!
But, to achieve that, we have to replace any salesy and pushy language with phrases that are not trying to bribe and beg our party guests to say yes. We actually want to emphasize that we have something to OFFER and GIVE, instead of focusing on what we are trying to get.
To illustrate this:
Instead of talking about recruiting and sponsoring, talk about the GENEROUS INCOME OPPORTUNITY you can offer them.
And instead of asking, "Would you like to book a party?", use language that's appealing and attractive and say, "Ladies, we've got so many free products to give away today. In fact, I'm looking for the first three ladies who would love to say "YES!" to the free products."
Similarly, when it comes to the selling part, phrases like "What would you like to order today?" and "Would you like to buy something from this bunch?" can sound just a little bit too salesy. Instead, try saying something like "Oh, so Mary, what have you chosen to spoil yourself with today?"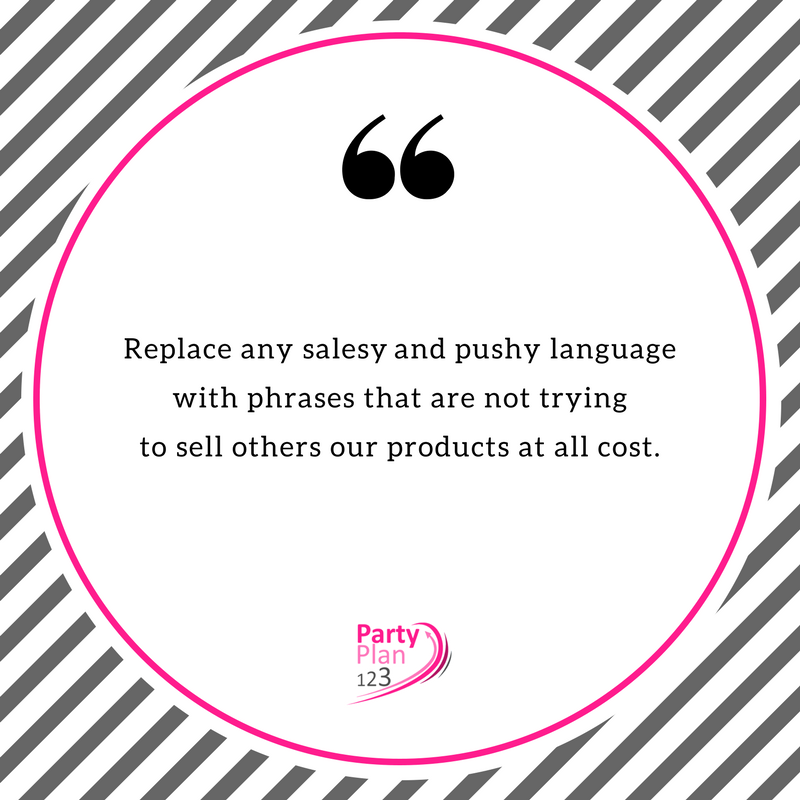 Interactive Demonstrations
The more we bring our products to life, the better we are at our work – we will experience an increase in sales, bookings, and recruiting leads. What you want to do is get your products out there – right into the hands of your guests. That's the best way to make them fall in love with your products – allow your guests to hold them, feel them, and why not even try them! You can easily do this wherever, whenever – whether you're at one of your parties, vendor events, or doing a 1-on-1 home visit.
Now, you don't want your guests and potential customers to be worrying about the cost. Not straight away, anyway. You also don't want them to feel like you're trying to force them into booking a party or ordering something from you. And the next little tip will show you how you can avoid this to your advantage.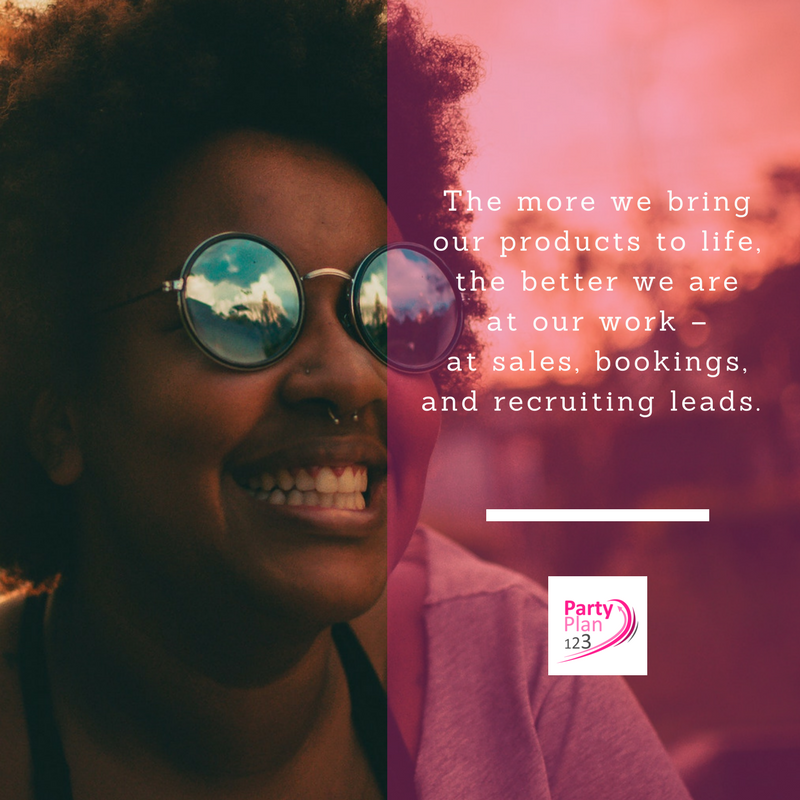 ---
---
Use wishlists to build desire for your products
Instead of catalogs and order forms, have a simple, yet beautiful, wishlist with all your product names from your kit listed in writing, without the prices. Have your guests simply look at your products, asking what the name of each of them is, highlighting their favorites, without worrying about the cost at this point…. the idea is that they are just showing us what type of products they personally love from our collection.
At some point, they are sure to have so many product names highlighted on their wishlist that they'll realize they can't actually afford to buy all that! This becomes a problem for them, but hey! – that's why we're here!
We can solve this problem for them and in 2 ways:
They can actually join our company for a generous income opportunity or
They can host a party and take advantage of the free hostess rewards and discounts.
So, while you are running your party demonstration, motivate them to actually feel and try the products they've marked. Say something like, "Ladies, gentlemen, it's your chance to get your hands on things you highlighted, to pick up and test and try all the products and find your favorite ones on your wishlist." After this, invite your party guests to highlight anything they like on their wishlist, and to ask anything about the products.
The key moment comes after the wishlist and we say, "It's time to give away the free products. We're looking for the first three ladies who'd love to say yes to the free products. This is how friends can help friends have a fun get-together like we're doing today & it's also one of the main ways that 'Sally' (our hostess) can get her rewards and free products as well. We're looking for the first three ladies that would love to say yes to the freebies by doing what 'Sally' is doing today….. So, who wants to be the first one to say YES to the FREE PRODUCTS?" (meaning…. who wants to be the first one to book a party?) – You are basically solving the problem they've created for themselves by building the wishlist!
Get your own copy of our FREE WISH LIST TEMPLATE here to get started:

And you can watch me demonstrate how I use the Wish List at a party in this free video series:
Get the complete video series at http://www.partyplan123.com/5-explosive-strategies
Let's Recap
To increase your bookings and sales make it a point to avoid using salesy & pushy words. Instead, try keeping it light; why not even a bit flirty if you feel you can pull it off! Don't just show, but demonstrate your products and invite your guests to actually try them and fall in love with them. Lastly, engage and build the wishlists with your guests and simply watch the magic happen! Good luck!
Mel 😘
---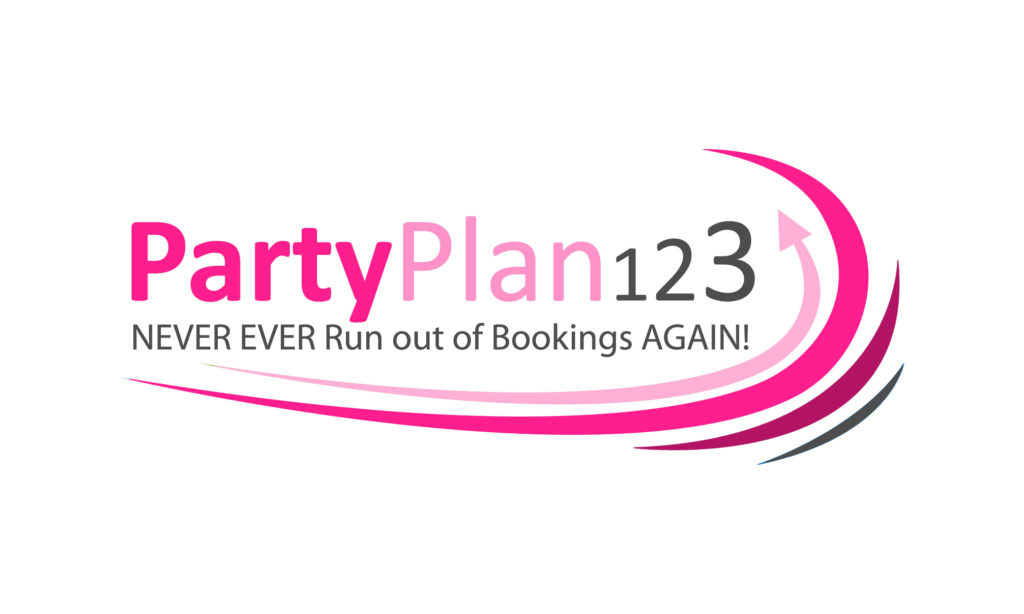 Melanie Parker
Founder of Party Plan 123
"NEVER EVER Run out of Bookings AGAIN!"
Phone: +61 408 084 128
Email: Melanie@PartyPlan123.com
Website: www.PartyPlan123.com
Let's connect!
"How?"Just click on any social media link below: