Hostesses book for 2 main reasons:
1) FREE PRODUCT
2) To help their friend (previous hostess) get FREE PRODUCT
But first, they have to like & trust you!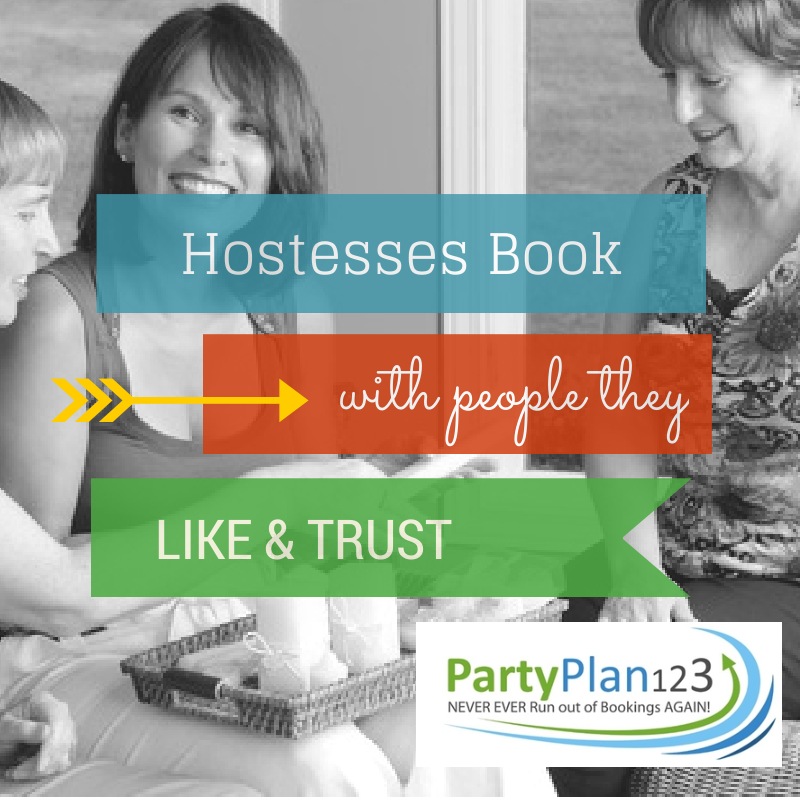 Here's 5 ways to get your guests to like & trust you first, before they will want to book a party with you:
1. SMILE:
Greet your guests with a warm, welcoming smile upon arrival at the party.  Facial expressions go a long way in non-verbal communication.  The first 3-10 seconds when a guest is meeting you is vital for their opinion of you.
2. KNOW YOUR GUEST'S NAME:
Introduce yourself as each guest arrives.  Say something like, "Hi my name is _______, your name is?"  Find ways to remember their name and continue to refer to them by name throughout the whole party.  I have a 'Party Results Form' in front of me as I run the party and I write each guest's name on the list as I meet them.  I politely ask how to spell their name.  Your guests will love the personal touch and be so impressed that by the end you have remembered their name!
3. ASK QUESTIONS TO GET TO KNOW THEM
Ask some questions to get to know each guest a little.  This builds the relationship between you without being the pushy salesperson.  Some great questions are "So, how far have you come from today?"  Or "So, how do you know Sally? (our hostess)"  Don't spend too much time with just one person, remember to spend a little bit of time chatting to each guest.
4. BE PROFESSIONAL
You are in business…. so you must look & act like you are in business.  You can maintain a professional approach while still being casual and down-to-earth.  Every little detail of professionalism impacts on the decision of your future hostess to book a party with you; how you dress, whether you arrive on time, the display set-up of your products, how you talk, whether you deliver the products on time, how you answer the phone.  A hostess wants her party to run smooth, well-planned & with no hassle….. the only way to achieve this is by having a consultant who is a professionally running her business at all times.
5. BE CONFIDENT
If a future hostess is going to invite you into her home, first you must believe in your product and be confident in the way you deliver your party presentation.  No-one wants to invite a consultant into their home who doesn't have a clue what she's doing.  Be passionate, be real & be positive in your approach.  Chin up, bright eyes, big smile, eye contact & a strong, confident voice!
Follow these 5 steps to find hostesses that WANT to book with you because they like & trust you…. PLUS they want FREE PRODUCTS through their hostess bonuses and/or they want to help he previous hostess earn her FREE PRODUCTS too through her booking rewards!
---
---
To recap… 5 ways to get your future hostess to like & trust you:
Smile
Know your guest's name
Ask questions to get to know them
Be professional
Be confident
We have even more tips & strategies on how to get bookings at the party in our FREE VIDEO SERIES at www.PartyPlan123.com/5-explosive-strategies
Remember to come back and share your success stories with us as you begin to use our tips to help you NEVER EVER Run out of Bookings AGAIN!  You can simply post your story in the comments box below.
Cheers to your success in direct sales!
Melanie Parker,
founder of Party Plan 123
---
WANT TO USE THIS ARTICLE IN PRINT OR ONLINE? Go ahead, but please do not alter it and do include the following information (with active links as appropriate)  Melanie Parker is the creator of 'The Road Map to Party Plan Success' home study course & one of the top party-planconsultants world-wide using fast & proven strategies to NEVER EVER Run out of Bookings AGAIN!  She founded Party Plan 123 to teach up & coming consultants world-wide how to master the skills necessary to survive & thrive in the party plan industry.
---
Melanie's authentic, easy-to-understand & easy-to-implement training has become highly sought after.  Her videos, books, newsletters, products &seminars inspire thousands of people around the world to never give up.  Experience more of Melanie's generous tips for success at www.PartyPlan123.com