RAYVEN PERKINS, from Direct Sales Supplies, is an expert when it comes to social media for Party Plan Consultants.  That's why I have invited her to write this guest blog post for us.
ENJOY!
~ Melanie Parker, founder of www.PartyPlan123.com
** P.S. ** Rayven is doing a FREE WEBINAR for us in December!!!!!  Yipppeeeeeee……. 
—————————————————————————————————



You did what you were told and started a Facebook page for your Direct Sales business. You've worked hard to get your followers, and now your page is starting to get some umpf behind it.  You've collected them, but for some reason, it seems that whenever you make a post, you get few, if any, responses.  And sales? Ha! Absolutely NO ONE responds to or takes advantage of any offer you post.
What do you do about it?
You need to train your followers to notice you, and you do that by interacting with them.
These four tips are designed to help you interact with your followers and get one step (well, actually, more like 4 steps!) closer to making social media work for you.
1.      Ask Questions
When you get on your wall and say something like "Special today! Only $10 for my newest product!" you are not interacting with your followers.  There's not much to say about that.  Sure, if someone had a question about your specific product, they could leave a comment, but that's assume you engaged them enough in the first place.
And you want comments.  When someone posts a comment on your post, your post now shows up in their news feed and is visible to their friends, causing more eyes to see you and more opportunity for more fans and more growth.
The best way to get comments is to ask questions. This can also be a great way to learn more about your market.  Instead of sharing your special on your body wraps, ask something like, "What is your target weight loss goal this year? Mine is to lose 30lbs."  People like to answer questions.
Game Plan:
Create a list of 20 different questions to ask your target market that pertain to your target market.  Post one question per day on your page, Monday through Friday, for a month.
2.      Let Them Brag
Let's face it: we all like to toot our own horn once in a while, and when we get to do it on someone else's wall and we have the opportunity to  spread our message on a page better than our own, it makes it extra special.
If you want a lot of comments and interaction  – fast – ask your viewers to share their own marketing information.  Have them post their website, their specials, their Facebook page or Twitter url; make them feel that you are allowing them to advertise.
And don't be afraid of letting your competitors in on the deal.  Let them brag and share their links – even their competing Facebook pages.  It promotes goodwill in your industry and can lead to them exhibiting the same behavior on your page.  Help and be helped.  Plus, you never know when you can collaborate on a venture together!
When you let your following promote themselves on your page, it increases their interaction, their desire to share your page, your reach, and, most important of all, it encourages your followers to pay attention to whatever you have coming next.
Game Plan:
Create a series of four different posts where your followers can brag about their Facebook pages or their businesses.  These can be requests to share their website, specials, favorite product from their line, favorite product from a friend's business, their Facebook page, Twitter account, Pinterest account, a YouTube video, you name it.  Aim to post one of these posts each week for a month, and reuse them the following month.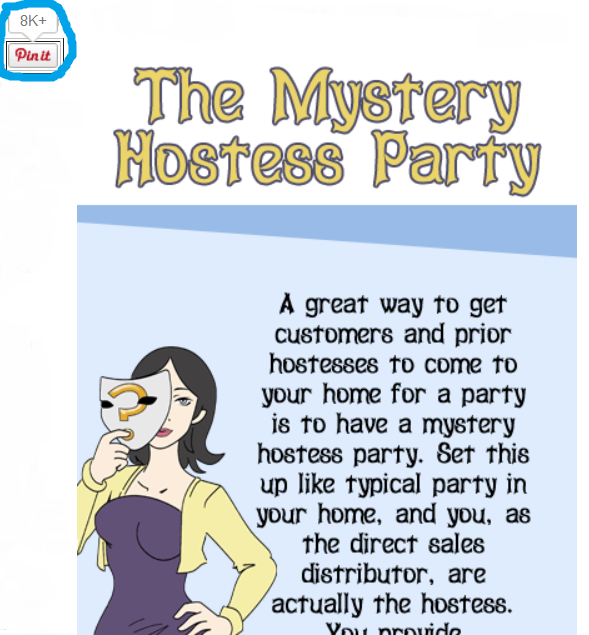 3.      Create Sharable Images
Images are big right now online.  And they do quite well on both Facebook and Pinterest.  If you notice, this image I had professionally created has been repined over 8,000 times on Pinterest.  Every once in a while, I will put it up on Facebook and it will get 100 or so shares.  That's what you will be planning to do as well.
One of the fastest ways to build a following and more importantly, to engage your following is to give them something visual that makes a connection.  In the case above, I had my graphic artist create a simple infographic from a list of 101 almost free things to do with kids this summer.  I provided the list; she made it look nice.  This topic pertained to my target market (moms with children at home) and resonated with them, making them want to share it.
Plus, it looks good on my Facebook wall!
Game Plan:
Have 10 images created that fit your target market and would make them want to share.  Simple infographics with lists or instructions work great! If you can make these yourself, awesome! If not, you can find people to make inexpensive graphics for you at places such as fiverr.com.  Plan to post one image a week for 10 weeks, then either create a new set of images or recycle your current ones.
4.      Give Them Tips
Make your page a valuable resource by offering niche specific tips and resources to your fans. "Wow" your followers by giving them a tidbit of information that helps them solve a problem or consider a situation differently.  Just make sure it pertains to your target market.  For example, a target market of foodies could be given the following tip:
Cooking Tips: Did you know that if you let fresh pressed garlic rest for 10 minutes before cooking it, you give it time to form healthy allicin, which is associated with cardiovascular, anti-bacterial, and anti-cancer benefits?
And the best way to capitalize on giving tips? Create a tip report and give it free to those who follow you, or better yet, sign up for your ezine.  This extra incentive can set you up as an authority in your niche, and have your visitors really paying attention to what you say next.
Game Plan:
Create 20 tips that pertain to your target market.  Post one tip per day five days a week for a month.  Then, either create another 20 tips, or recycle your old ones.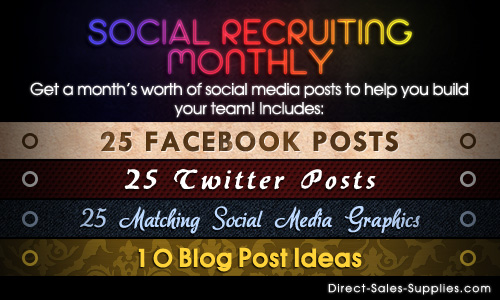 Now that you know why to interact with your followers, check out the series, Social Recruiting Monthly, to make it easier to interact with your followers. Each month you will receive a set of 25 Facebook posts, 25 matching Twitter posts, 25 graphics, and 10 blog post ideas that fit around the theme of direct sales recruiting. Use these in your efforts to get your fans engaged.
Subscribe now:
http://direct-sales-supplies.com/members/aff/go/partyplan123/?i=25
———————————————————————————————–

Rayven Perkins is a Direct Sales Trainer who is compelled by a vision to help direct sellers to grow their business and achieve the dream of living life on their terms. She creates insanely useful–and proven– tools and resources that help distributors build the business they aspire to.
You can visit her site BY CLICKING HERE.